2017 Mercedes Classe E in Granby.
October 04 2016, Mercedes-Benz Granby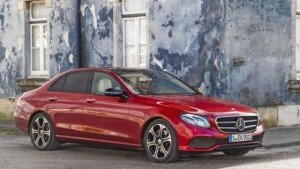 This year, the superb 2017 Mercedes E Class for sale near Montreal's South Shore and Bromont went through some big changes. Even more spacious, more technologically advanced and more powerful than its previous versions, it will soften even the hardest hearts in Brossard and Cowansville. To get a preview, read this article written by the best Mercedes-Benz dealer located near Montreal's South Shore and Bromont.
Always faithful, the E Class will certainly be powerful. The engine of the E300 for sale near Cowansville and Boucherville is a 4-cylinder turbocharged engine that can reach a very nice 241 horsepower. For more adrenaline and speed, choose the E400 model and you will benefit from 329 horsepower thanks to its V6 bi-turbo engine.
The 2017 Mercedes E Class for sale near Montreal's South Shore and Bromont is loaded with the country's most advanced technologies. For example, thanks to a mobile app, it will be possible for you to remotely park your car by simply using your index finger and your cell phone. As a result, you can get out of your Mercedes, while still controlling its front and rear manoeuvres without a problem! Your Smartphone, as well as helping you to park, will allow you to lock and unlock your doors at a distance. With its 23 sensors of all kinds, its screens and cameras, we'll bet that the next wave of auto mechanics will also have to be computer programmers.
As well, the 2017 Mercedes E Class is equipped with an intelligent driving system, that means that it takes control of the acceleration and braking. Although you should always keep your hands on the wheel, the car, with its radar, takes care of keeping you in the middle of the lane. If a vehicle cuts you off when you are headed to Boucherville or Brossard, the Mercedes makes sure that you stay at a safe distance behind it.
To purchase this marvel of the latest technology, head over to Mercedes-Benz Granby, located only minutes from Montreal's South Shore. Here you can benefit from the greatest current Mercedes promotions and the Mercedes financing which is unique in the country.