2017 Audi A4 vs 2017 Mercedes C300 Coupe in Granby.
August 11 2016, Mercedes-Benz Granby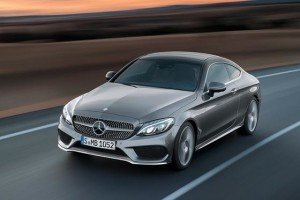 With its superior features and breathtaking looks, the C300 has earned a superb reputation in the luxury compact car category. On the other hand, despite its significant conservative reputation, car enthusiasts appreciate the Audi A4 for the quality of its construction and materials. Since compromise is never an option when it comes to luxury vehicles, let's compare them to see which one is the better deal.
Having earned the title of « World Car of the Year », the Class C sedan surpasses all other luxury vehicles, such as those of BMW and Audi. When we look at its carefully maintained proportions and aerodynamic lines, we could say that Mercedes-Benz builds the nicest luxury compact cars. Beside it, the 2017 Audi A4 seems rather dull, almost invisible, with its conservative lines and its design that hasn't changed in years.
In fact, nothing about the 2017 Audi A4 has changed, which makes it even more boring. But when you get behind the wheel of the C300, its various parameters when in Sport Mode (and even Sport+), make you feel as if you are driving a race car. The careful construction of the Mercedes is also superior to the Audi vehicle.
So, in the luxury car category, the 2017 A4 near Brossard is a very decent car and has nothing to be ashamed of. However, if you want to have an exhilarating driving experience in Estrie in a stunning car, then you should really opt for the 2017 C300 Coupe. In fact, the experts can't praise this luxury car enough and suggest that all Montreal South Shore car enthusiasts buy one.
If you prefer seeing it for yourself, don't be shy and plan on coming in for a free test-drive at Mercedes Granby, located in the Eastern Townships, near Bromont. As well as putting its race car-worthy features to the test, you will appreciate the elegance and refinement of its passenger compartment. Before going back to St-Bruno, give us a few minutes to tell you all about our golden Mercedes promotions as well as our impossible to beat Mercedes Financing.